Chris J. Adams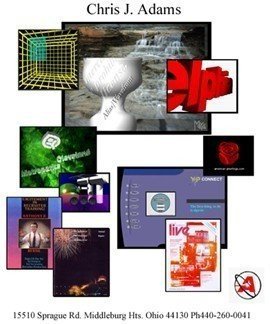 My Favorite things about Designing.
Its Fun
Its Natural
Its Intriguing
My Favorite Web Sites
Angelfire - Free Home Pages
Scrapbook Flair Digital Scrapbooking Community
Some of my current work
Hunt Seat Horse Riding.

My Current work has taken me to designing rich media on the subject of horse riding and graphic design. The first elemant is a web site on the father of Hunt Seat, George Morris. The second piece is a youtube video/slide animation on the inspiration of horses in your life. There are a couple of horse painting which I have started, Intendo and Rachel and Hot Rod. I am a dynamic individual with a wealth of experience in art and design. I am naturally talented in photography, video and 3D animation with excellent skills in web design, print design and interactive multimedia design. My work has been seen in Print, on the World Wide Web and in the International Scene. I often bring an artistic spirit and passion to my place of work. I am intrigued by the latest ideas in graphic design. I am inspired by latest in technologies. I am constantly observing whats going on in the International arena and trying to keep up on the international market. My hobbies take me to horse jumping lessons and fencing lessons. Volunteering for horse riding therapuetic horse riding. Thank you for visiting my page at Angelfire. Please come back and visit again!

Email: adamsstudio3@hotmail.com